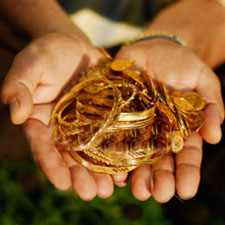 As 2010 saw the price of gold move up at an astonishing pace, the year also saw a rise in the amount of companies offering to buy unwanted gold jewellery from everyday citizens.
With names such as CashMyGold, Cash4Gold and Postal Gold, these companies sought to hop abroad the gold wagon by purchasing gold form people who perhaps did not know the true value of their items.
However, concerns were raised by customers. The companies generally operate using a system that has the customer send their gold in, and then receive a quotation offer. The customer is then required to state whether they accept the offer or not. However reports and complaints show that the companies were not giving an adequate time for the customers to decline the offer, and if no response was received after a very short period of time, the gold would be melted.
The prices offered were also deemed to be unfair, often much less than what would be offered be genuine jewellers and pawnbrokers.
With this in mind, the Office of Fair Trading approached the gold buyers and ordered them to change their business practices. They must now give customers full details including price offers in advance with a suitable time for a response, they must also fully divulge the full weight and carat of the gold sent in.
Since being forced into accepting the new rules several companies have stopped trading, including CashYourGoldNow and Money4Gold.
A previous report by consumer watchdog publication Which? also cast the gold buyers in a damaging light, the magazine said they represented "shockingly bad value".